Bulgaria: Mayor sprinkles sugar to stop road accidents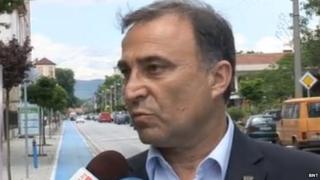 A mayor in Bulgaria is resorting to folk traditions to ward off danger on the roads around his town, it's reported.
Nikolai Grozev, mayor of Nova Zagora, sprinkled 50kg (110lb) of sugar on all four routes into the town, Bulgarian National Television reports. Mr Grozev says the idea was suggested by a local nursery school teacher. It comes after a week in which two policemen and two local youths were killed and five other people injured in crashes on the town's roads. "The town authorities followed the ancient tradition that sprinkling roads with sugar will banish evil omens," Mr Grozev tells the private bTV channel. "I got my housekeeper to buy the sugar, picked it up in an official car and sprinkled in the middle of the four approaches to Nova Zagora." But he added that it was primarily a symbolic gesture. "We just want people here and throughout Bulgaria to be more sensible and to drive carefully."
While there is a longstanding link between politics and superstition in Bulgaria, the Standart newspaper points out that local elections are on the horizon, and the sugar-sprinkling could just be a campaign stunt. But folk traditions are certainly alive in the area. The town was home to a famous "prophetess", Slava Sevryukova, and the mayor recently unveiled a monument dedicated to another local soothsayer, "Grandpa" Vlaicho Zhelev, in a nearby village.
Not everyone is amused, however. Father Silvester, a priest from nearby Sliven who has long campaigned against fortune-tellers, says Mr Grozev's acts run counter to Orthodox Christian teachings. And he thinks the stunt could prove costly to the town, telling Standart: "This will lead to lower crop yields in Nova Zagora, mark my words."
Next story: Hungary university makes Holocaust class mandatory
Use #NewsfromElsewhere to stay up-to-date with our reports via Twitter.