Serbia: Belgrade's monument to Franz Ferdinand assassin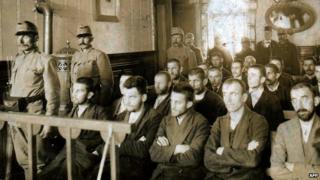 Serbia's capital city will soon have a new monument honouring Gavrilo Princip, the Bosnian-Serb nationalist whose actions triggered a chain of events leading to World War One.
Officials in Belgrade say the monument will be unveiled on 28 June, 101 years to the day after Princip shot Archduke Franz Ferdinand and his wife Sophie in Sarajevo, the Balkan Insight website reports. "By erecting this monument, Belgrade will appropriately honour a man who by his action became a part of Serbian history and sacrificed himself for freedom," says city manager Goran Vesic. What form the monument will take hasn't yet been revealed, nor has its exact location, but Mr Vesic says it will be 2m (6ft 6in) tall and weigh 350kg (55 stone).
Princip died of tuberculosis in 1918, having been sentenced to 20 years in jail after the assassination. He remains a divisive figure in the region - while many people consider him a terrorist, others see him a hero who fought for freedom from the Austro-Hungarian empire, the website notes.
Belgrade's new monument is a gift from Bosnia's Republika Srpska entity, which erected its own statue to Princip in eastern Sarajevo last year. At the time the local mayor told the BBC: "I have my own view of history - so do my citizens - and they view Princip as a hero."
Next story: Russian farmer in court over 'village currency'
Use #NewsfromElsewhere to stay up-to-date with our reports via Twitter.