Italy: Students given 'alternative' holiday homework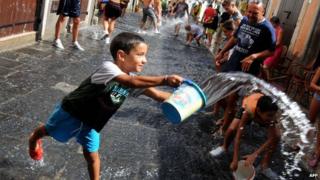 An Italian teacher has decided to forgo setting the usual holiday homework for his students and has instead given them a list of life advice.
Most schoolchildren in Italy are given school work to complete over the three-month summer holidays, which stretch from mid-June to mid-September. But Cesare Cata, who teaches at a secondary school in the central Le Marche region, wants his students to use their time off for less academic pursuits. "At least once, go and watch the sunrise", he writes in the 15-point "homework" list, which has since gone viral. Students are also told to wander beside the sea in the morning "thinking of the things you love in life", and to dance shamelessly when the mood strikes, because "summer is a dance, and it is foolish not to take part".
Mr Cata doesn't want students to forget school completely, though, and urges them to read widely and use all of the new terms they learned in the past year. "The more things you can say, the more things you can think; and the more things you can think, the freer you are," he says.
More than 3,000 people have shared the teacher's Facebook post, and hundreds have left positive comments. "I wish I'd had a teacher like you who encourages reflection and introspection," one person writes. The list seems to have struck a chord with many parents, who say they have shared it with their children. "Homework for life, not just for a season," one Facebook user says, while another declares: "With a teacher like you, I would go back to school tomorrow!"
Next story: Doctors remove 420 kidney stones from patient
Use #NewsfromElsewhere to stay up-to-date with our reports via Twitter.