Japan: Wartime tram restored for Hiroshima anniversary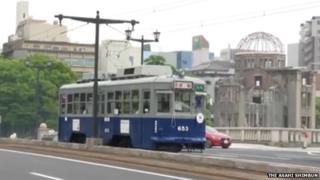 One of the few remaining trams which survived the Hiroshima bomb has been restored to mark the 70th anniversary of the attack.
The vehicle has been repainted in its original colours - blue and grey - and carries video testimonies from survivors, The Asahi Shimbun news website reports. It's one of the Hiroshima Electric Railway Company's Model 650 trams, considered inspirational symbols of the city because they were back up and running only three days after the bombing. The restored car - number 653 - is one of only three "A-bomb trams" in operation today, the report says. It was badly damaged at the time but later resumed service, running until 2006.
Many local people gathered to see the tram begin its new route on Saturday, including an 85-year-old survivor of the attack. Sachiko Masuno worked as a driver and conductor towards the end of World War Two, and tells the paper it's "very moving" to see the tram in its original colours. "It is a very precious peacetime treasure," she says.
An estimated 140,000 people died when the United States dropped an atomic bomb on the city on 6 August 1945. Almost 90% of the company's trams were destroyed or damaged. The restored tram's route will pass in front of the iconic Hiroshima Peace Memorial, the only building left standing near to where the bomb hit.
Next story: Refreshing freebies for Moscow metro users
Use #NewsfromElsewhere to stay up-to-date with our reports via Twitter.