Italy: Beppe Grillo under fire for migrant tweet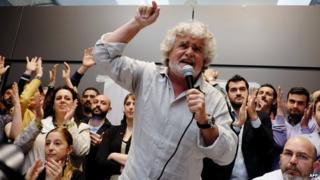 The leader of Italy's anti-establishment Five Star Movement has sparked outrage over a tweet which appeared to equate migrants with rats.
Comedian-turned-politician Beppe Grillo has been calling for Rome's mayor to step down, and on Wednesday tweeted that there should be an election as soon as possible "before Rome is swamped by rats, rubbish and illegal immigrants", La Repubblica reports. A few hours and a lot of criticism later, Mr Grillo deleted the tweet and posted an amended version, keeping the rats and the rubbish, but ending with "illegal immigrant camps run by the mafia".
Unfortunately for Mr Grillo, social media users aren't easily fooled. "Rest assured that we have not lost the first version. How disgusting," one Twitter user writes. "The damage is done, dear Five Star Movement press office," says another. One person says the amended tweet is a "cure that's worse than the disease". A few defended the politician - one writes that while unpleasant, his tweet highlighted three issues local people are worried about.
The former comedian is no stranger to controversy, often publishing provocative material on his blog. In September, he posted an image of Interior Minister Angelino Alfano "blacked up", in a blog post criticising Italy's immigration policy. He also compared Prime Minister Matteo Renzi's leadership to Andreas Lubitz, the co-pilot of the downed Germanwings plane. But his party - the second largest in Italy's lower house of parliament - continues to fare well at the polls.
Next story: Mass wedding held for Iraq militia fighters
Use #NewsfromElsewhere to stay up-to-date with our reports via Twitter.