Nepal: Chronicle of 1934 quake republished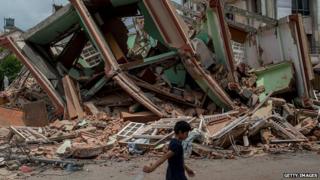 A book chronicling Nepal's 1934 earthquake has been republished, capturing the public's attention just months after a devastating quake hit the country on 25 April, it's reported.
In The Great Earthquake of Nepal 1990 (Nepal ko Mahabhukampa 1990 - the Nepali calendar is approximately 56 years ahead of the Gregorian calendar), author Major-General Brahma Shamsher gives graphic accounts of the 1934 disaster, including many of the personal stories of those affected, The Himalayan Times reports. The 8.4-magnitude event remains Nepal's most powerful on record and the book serves as one of the first written accounts of a quake in the country. The army officer amassed details of the losses, relief and reconstruction work carried out in the aftermath of the disaster. In the book, Mr Shamsher also recommends a range of measures for citizens to protect themselves.
Satya Mohan Joshi, a cultural expert who survived both the 1934 and 2015 quakes, writes in the foreword to the new edition. "We suffered a huge loss again... also we ignored such an important book which had compiled all related government documents about the quake."
Geologists say that the latest 7.8-magnitude quake followed a "historic pattern" and was primed by the massive earthquake of 1934 which claimed thousands of lives and razed around a quarter of Kathmandu to the ground. Dr Bipin Adhikari, a constitutional expert, says Mr Shamsher went to great lengths to praise the rescue efforts of the army in the aftermath of the 1934 disaster.
Next story: Chinese newborn has lucky roadside escape
Use #NewsfromElsewhere to stay up-to-date with our reports via Twitter.