China: 'Petty graft' app feature sees tip-offs soar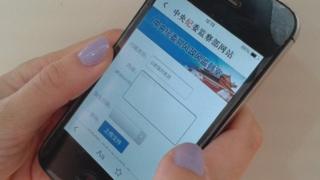 Public tip-offs about corruption in China have soared since the launch of a new whistleblower function within a government mobile phone app, it's reported.
The app is run by the Communist Party's Central Commission for Discipline Inspection, and now allows users to upload both text and images as evidence of local party members' "discipline violations", the Xinhua news agency reports. The commission says it received a surge in tip-offs after the new feature launched on Thursday - more than 1,000 compared to around 300 on a normal day. "At one point, we were getting three tip-offs a minute," a commission official tells Xinhua.
Anyone using the new feature can choose between 11 categories of transgressions, including party officials dining out in pricey restaurants at the public's expense, or hosting luxury weddings or funerals. One person reported a flashy new local government building, which was thought to breach the party's frugality policy. Chinese President Xi Jinping has run a relentless anti-corruption drive since coming to power in 2012, making it clear he wants to catch "both tigers and flies" - meaning low-level officials are under scrutiny alongside high-profile figures.
Some Chinese social media users are sceptical about using the new tip-off feature, though. "Who dares to report real names?" asks one person on the Sina Weibo social networking site. "This is high risk, no good can come of this." But others welcome it as a positive step, with one user saying: "I clap my hands for every little bit of progress."
Next story: Chronicle of 1934 Nepal quake republished
Use #NewsfromElsewhere to stay up-to-date with our reports via Twitter.