Thailand: Japan's Doraemon cartoon cat in rain ritual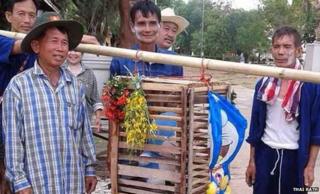 Villagers in drought-affected northern Thailand have used a toy of a popular cartoon cat to perform a rain ritual - in case anyone complained about them using a real animal, it's reported.
Ordinarily, a live cat would be used as part of the ritual to pray for rain, but locals were worried about being accused of animal cruelty, the Thai Rath website reports. Instead, they turned to the Japanese manga character Doraemon - a time-travelling robotic cat - which was duly loaded into a wooden cage and carried around the village in Phrae province. Farmers in the area grow corn, but a lack of rain means many are struggling to irrigate their crops.
Doraemon was chosen because nobody could find a more realistic cat toy, the report says. The ritual involved the toy being taken to sacred sites around the village, and ended with a ceremony at a nearby monastery, according to the Bangkok Post. But so far the villagers' prayers have gone unanswered, and Thailand's drought persists. As well as causing problems for farmers, the dry spell is also starting to affect tap water supply in some places. The country's rainy season usually begins in May and lasts until November.
Next story: Turkish town sees nine sinkholes in three months
Use #NewsfromElsewhere to stay up-to-date with our reports via Twitter.