Northern Marianas: Sole communications cable snaps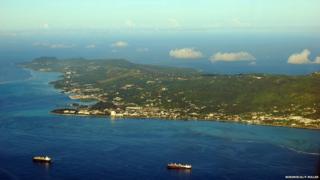 The sole fibre-optic cable connecting the Northern Mariana Islands with the outside world has broken, cutting off almost all communications.
The undersea cable snapped on Wednesday, severing the US territory's telephone, internet and banking services, the Pacific Daily News reports. It means no credit card transactions or cash machine withdrawals can be made, and flights to nearby Guam have been grounded. A backup microwave link - itself damaged by recent storms - was restored on Thursday and is now providing a limited phone service between the islands and Guam, and for emergency services.
Initially, there was "no connectivity at all" on the main island of Saipan, according to James Oehlerking, CEO of Pacific Telecom Inc, which owns the territory's telecoms company. He says the incident is having a "broad, sweeping impact" on people.
It's not yet known how badly the fibre-optic cable has been damaged, how long it will take to repair, or what caused it to break. In 2008, the cable snapped when an undersea boulder rolled over it. Mr Oehlerking says that while such cables are usually "stable and reliable" ways of connecting communities, they're "not totally immune from undersea activities".
Next story: Budget airline bans 'costly' chewing gum
Use #NewsfromElsewhere to stay up-to-date with our reports via Twitter.