Japan: Teeth from huge tyrannosaur found in Nagasaki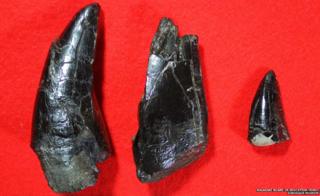 Two fossilised dinosaur teeth found in southern Japan are the first evidence that huge tyrannosaurs once roamed the area, it's reported.
The teeth were discovered in an 81 million-year-old layer of rock in Nagasaki Prefecture last year, and now palaeontologists have announced that they're likely from the lower jaw of a 10m (33ft) long dinosaur, the Asahi Shimbun website reports. While teeth from smaller tyrannosaurs have been found in Japan before, this is the first proof that such a large predator existed in the area, according to the Fukui Prefectural Dinosaur Museum.
"The findings show there was an ecosystem led by tyrannosaurs in Nagasaki, which was connected to the Asian continent by land at that time," says Kazunori Miyata, the museum's chief researcher. While the teeth were found in the same place, it's not known if they both belonged to one creature, and the specific species hasn't yet been determined. The largest tooth is 8.2cm (3.2in) long, and while the second is damaged, it could have been even bigger when attached to the dinosaur, the museum says.
Tyrannosaurs existed in Asia and North America during the late Cretaceous Period - between 66 million years and 83 million years ago. There were numerous species of varying sizes within the tyrannosaur family, from the huge T. rex, to the more recently discovered "Pinocchio rex".
Next story: Swimming championships held on football pitch
Use #NewsfromElsewhere to stay up-to-date with our reports via Twitter.