Turkey: Late starts for civil servants who exercise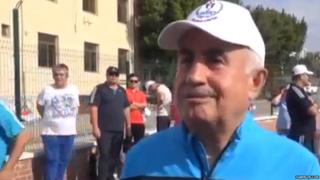 A governor in western Turkey is letting civil servants turn up late for work, as long as they spend the time exercising.
Government workers in the province of Edirne usually start their shifts at 08:30, but anyone signing up to the new Our Cure is Sport scheme will be allowed to clock in an hour later, the Haber 7 website reports. Workers will be helped to find a sport that suits them, and will have access to a dietician, the report says. So far 70 people have asked to take part. But as the Daily Sabah points out, it isn't clear whether people will be monitored to make sure they really are using the hour to work out, and not to sleep in.
The scheme is part of an anti-obesity drive by Governor Dursun Ali Sahin, who doesn't want early starts at work to put people off exercising. "I am thinking about joining the morning walks myself, it is very beneficial," he says. "Even those with high cholesterol can find a solution for their health problems here."
This isn't the governor's first attempt to try to improve the health of local people. In January, he announced a ban on people using lifts to reach the first three floors of public buildings. Before that, he set his sights on the Turkish tradition of serving tea with two cubes of sugar, telling cafes to provide only one cube instead.
Next story: Reykjavik turns street into rainbow for Gay Pride
Use #NewsfromElsewhere to stay up-to-date with our reports via Twitter.