Poland: Drought reveals Soviet WW2 plane in lake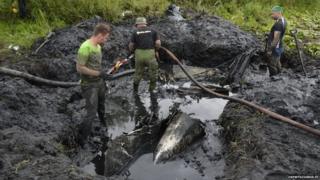 The wreck of a Soviet World War Two plane has been found in a lake in Poland, with the remains of the crew still inside.
Falling water levels revealed the aircraft wedged in the mud in an oxbow lake in Kamion, about 70km (40 miles) west of Warsaw, the RMF radio website reports. The remains of the two crew members have already been removed from the site, and several parts of the plane itself have been recovered, the report says. "For now we have managed to find the instrument panel, the engine, a wheel and a well-preserved radio set," says Zdzislaw Leszczynski, director of the Vistula River Museum in nearby Wyszogrod. "The plane was so battered that it's impossible to determine which model it is for the time being," he says.
Markings on the plane itself and one of the pilot's fur-trimmed winter uniforms confirm they were Soviet airmen, public broadcaster TVP reports. Mr Leszczynski says it's likely they were shot down by German artillery in January 1945, plunging into the frozen river.
Excavations at the site, which are being overseen by the museum and a local historical association, will continue for another week. The local fire brigade has been lending a hand with digging out the wreck, and posted a series of photographs of the scene on their website.
Next story: Calls for meat boycott in Egypt over price rises
Use #NewsfromElsewhere to stay up-to-date with our reports via Twitter.