Turkey: 'SpongeBob' castle mocked on social media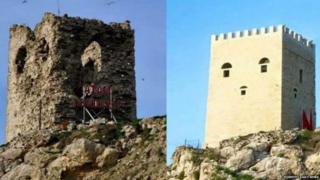 The restoration of an historic castle in Turkey has raised eyebrows among social media users, who have compared its new look to the cartoon character SpongeBob SquarePants.
Work has been going on to renovate Ocakli Ada castle, in the Black Sea town of Sile, for several years and was completed earlier this month, the Hurriyet Daily News reports. Its now looks brand new, with restored stonework, battlements and windows which, according to some netizens, resemble SpongeBob's face. The fortress sits on an island looking out to sea, and is thought to date to the Byzantine era. The manner of its restoration has now been questioned by the main opposition party in parliament.
There were plenty of jokes from Twitter users over the building's new appearance. "They restored the Sile castle and turned it into a memorial for SpongeBob," writes one person. "I take my hat off to this aesthetic taste." Another user tweets: "Even the castle can't believe its own restoration." But some are frustrated over the way the fortress has been restored. "I laughed a lot but it is actually a matter to cry over," says journalist Zeynep Gurcanli.
The local municipality isn't happy about the reaction though, issuing a long statement defending the restoration work. "The criticism on social media is not based on knowledge and it disregards the developments and the decisions made during the process of restoration," says Prof Kemal Kutgun Eyupgiller, an advisor for the project. "What needs to be criticised here is the neglect that the castle suffered since the 19th Century", the statement says.
Next story: Feminist group 'renames' Paris streets
Use #NewsfromElsewhere to stay up-to-date with our reports via Twitter.