Vietnam: Family seeks royalties for national anthem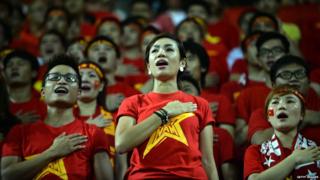 The Vietnamese government is locking horns with the family of the man who wrote the country's national anthem, in a dispute over royalties.
The Culture Ministry has told a music copyright agency to stop collecting royalties on "Tien quan ca" ("The Marching Song"), which has been the country's anthem since 1976, and of North Vietnam before that. The family of composer Nguyen Van Cao, who died in 1995, registered the song with the Vietnam Centre for Protection of Music Copyright last week, and are demanding royalties for all public performances except in schools and "important state ceremonies", Thanh Nien newspaper reports.
Ministry official Vu Xuan Thanh tells the paper that the national anthem cannot be copyrighted, adding that Van Cao's widow offered to gift it to the nation in a 2010 letter. He also says this was the composer's own wish.
Not so, says Van Cao's eldest son Van Thao. He tells the paper there was never any "family consensus" on gifting the song, which is why they decided to authorize the Centre to start collecting royalties.
The copyright announcement has angered many veteran musicians. Nguyen Quang Long says the "anthem must belong to the public, and people should be allowed to sing it without worrying about royalties". He adds that Van Cao's name was "honoured in perpetuity as part of the nation's history" when parliament chose it as the North Vietnamese anthem in 1946, and that should be enough. Singer Anh Tuyet, who is best known for her performance of Cao's songs, agrees that the anthem "long ago became a song of the people, so it should be gifted to the people".
There are signs of movement on both sides. The Culture Ministry is proposing a prestigious ceremony to "honour the song's gifting" to the nation, while Van Thao says parliament - which is dominated by the ruling Communist Party - should be allowed to vote on the matter. As it happens, the Centre for Protection of Music Copyright says the royalties are unlikely to be significant as it is "difficult to keep track of when and where the song is performed", given its popularity.
Next story: Special trains for Chinese tourists in Switzerland
Use #NewsfromElsewhere to stay up-to-date with our reports via Twitter.