China: Company launches 'war criminal ice cream'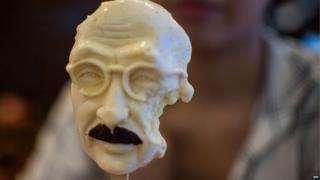 A Chinese ice cream company is marking 70 years since the end of World War Two with a special creation depicting the face of Japan's wartime prime minister, Gen Hideki Tojo.
The Shanghai-based Iceason chain wants 10,000 people to scoff the head-shaped snacks as a way of remembering China's war against Japan, the China Daily website reports. The 3D-printed ice creams aren't cheap though, costing 30 yuan ($4.70; £3) each. Tojo was Japan's prime minister between 1941 and 1944. He was later convicted of war crimes and executed by hanging in December 1948.
While a few Chinese social media users think the ice cream is funny, most are not impressed with the company. "Such vulgar marketing," says one person on the Sina Weibo social network, while another thinks it's "an extremely low idea". "Doesn't the thought of putting an evil man's head in your mouth make you feel sick?" asks another. Some users also take issue with the artistry, pointing out that adverts for the ice cream use a face that could be mistaken for Mahatma Gandhi.
The 70th anniversary of the end of World War Two will be marked by a huge military parade in Beijing on 3 September. Organisers have been employing some unusual tactics to prepare for the event, including using monkeys to destroy birds' nests, in order to keep the sky clear for military aircraft.
Next story: Russia laboratory to study mammoth cloning
Use #NewsfromElsewhere to stay up-to-date with our reports via Twitter.