Russia: Government mobile app to help alcoholics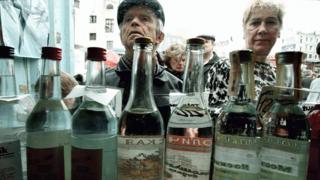 The Russian government is trying to tackle the country's notoriously high alcoholism rate with the launch of a free mobile app.
The app will provide information for "people battling addictions that are very hard to fight" in order to help them to stay clean, says Yevgeny Bryun, the health ministry's leading narcotics official. He tells the M24 news website that it will offer details of nearby support meetings for recovering alcoholics and drug addicts, medical advice on keeping the problem under control, and access to online radio programmes run by Alcoholics Anonymous.
The app should be up and running next year, but Mr Bryun says other resources are already being made available, including a new radio network for rehabilitation clinics, where "specialists and alcoholics will talk about recovering".
Experts are lining up in support of the plan, which they see as a serious attempt to tackle what Prime Minister Dmitry Medvedev has called Russia's drinking-culture "national disaster". "Information technology can play a very important role here, as you can't change these patients with pills," Dr Oleg Zykov, a leading Moscow drugs specialist, tells M24.
Russian men are estimated to drink about 70% more pure alcohol than their American counterparts, and United Nations figures suggest alcohol was the main culprit in 30% of all deaths in Russia in 2012. Government incentives, penalties and price hikes seem to be making little difference. But the ideas keep on coming. In Moscow, a pilot scheme will see the city's health department issue certificates to people who stay clean, and the head of Russia's anti-drugs service has even suggested devoting a television channel to helping people beat their addictions.
Next story: S Korea barracks get one-way mobile phones
Use #NewsfromElsewhere to stay up-to-date with our reports via Twitter.