Iran: Footballer calls for easing of women's travel laws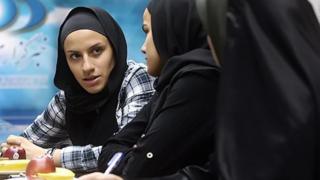 One of Iran's best-known female football players has called for travel restrictions on sportswomen to be relaxed, it's reported.
Niloufar Ardalan, known locally as "Lady Goal", tells the Iranian website Nasimonline that she won't be competing at the forthcoming Asian Football Federation Women's Futsal Championship - an indoor version of the sport - because her husband hasn't given permission for her to travel abroad. By law, a married Iranian woman needs her spouse's consent to obtain or renew a passport. The tournament begins on 17 September in Malaysia.
The footballer tells the Shirzanan Global website that she wants sportswomen to be temporarily exempted from the law when representing their country. She later stressed that she has not spoken to any foreign media about the situation, and just wants to be able to fly the flag for Iran. Her husband, a sports journalist and television presenter, has not publicly responded to her comments, according to Iranian media. He reportedly wants her to be at home for their son's first day of school.
The story has sparked a debate among Iranians commenting online, with many saying it's a family dispute which should be kept private. "If she was thinking of her family instead of football then this family row would not be published by the media," says one person. "We need to listen to her husband's opinion too." But others sympathise with the footballer, with one writing: "This is really awful. We need to do our best to put an end to this stupid law."
Next story: Japanese city launches app to report dog poo
Use #NewsfromElsewhere to stay up-to-date with our reports via Twitter.