Russia: Moscow metro opens its first ever public toilet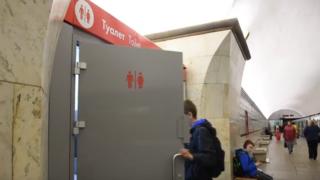 Passengers on Moscow's underground system can now access a toilet for the first time - but only at one station.
The single "bio toilet" has been installed on a platform at Prospekt Mira metro station, about 3km (1.8 miles) north of Red Square, and is free to use, the Tass news agency reports. Passengers access the new loo using their travel cards, and the cubicle has sensors to alert people if they leave any possessions behind. There's also an alarm which sounds if someone has been inside more than 15 minutes, the report says.
The city's huge metro system serves about seven million people per day across 196 stations, and travellers have long called for toilets to be installed. Above-ground public facilities in the Russian capital are few and far between, often dirty and usually charge a fee.
The new toilet is being billed as environmentally friendly and metro officials say other travellers won't be troubled by any leaks or smells. "It's a self-contained unit that doesn't need connection to sewage or water mains," says Ivan Ostashko, the metro's public relations chief. Whether this is the beginning of an underground toilet revolution isn't yet clear - the Prospekt Mira cubicle is just a pilot. "We'll study the results of this trial and decide whether to install toilets at other stations," Mr Ostashko says.
Next story: China theme park devoted to British teddy bears
Use #NewsfromElsewhere to stay up-to-date with our reports via Twitter.