Russia: Runner 'blocked by police' at Moscow Marathon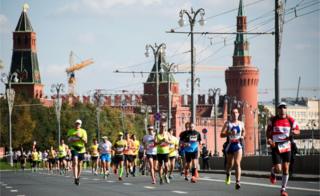 A runner leading a 10km race as part of the Moscow Marathon was allegedly stopped by police not far from the finish line.
Russian athlete Rinas Akhmadeyev, who went on to win the race, told the Moscow 24 television channel that he was held up with only 500m left to run. "A policeman stopped me for 20 seconds. I was puzzled," the 26-year-old said in an interview shortly after crossing the finish line. According to Akhmadeyev, he was told he couldn't go any further. "I asked them where the finish line was, but they repeated: 'You can't go any further'," he says.
Video footage of the race, part of which has been embedded on the Meduza news website, appears to show an officer stepping into Akhmadeyev's path and holding an arm out in front of the runner, as a colleague stands nearby. During the live broadcast the camera cut away, returning to Akhmadeyev shortly afterwards, by which time he was on his way again - albeit glancing behind him and checking his watch. According to the Govorit Moskva radio station, police say that they have no information about the incident.
Clocking a winning time of 29 minutes and 45 seconds, Akhmadeyev said the race was "all great" apart from his unexpected encounter, and pledged to return next year. "The only big downer was this, the fact that they stopped me. I'm not too pleased about that."
Next story: Norway hikers asked to collect bear droppings
Use #NewsfromElsewhere to stay up-to-date with our reports via Twitter.