Tonga: Nearly all public servants 'are obese'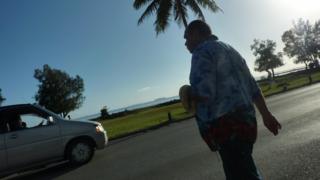 Nearly all public servants working in the Pacific kingdom of Tonga are overweight, it's been reported.
According to a survey conducted by the largest hospital on Tonga's main island, 94% of the country's public servants are overweight, Radio New Zealand International reports. This compares unfavourably with statistics released earlier this year that show 88.3% of Tongan women and 83.5% of Tongan men over the age of 20 are obese, giving it the unwelcome title of the fattest country in the world, the Tonga Daily News says. The head of Vaiola Hospital's Health Promotion Unit acknowledged the problem, and said that the challenge facing the kingdom's public servants "is to alter eating habits and make lifestyle changes", but he appears to be fighting a losing battle against sedentary tendencies and poor diet.
Obesity is regarded as being at crisis levels across the Pacific Islands, with Agence France Press noting in 2011 that the main diet for many consists of "huge cans of corned beef the size of paint tins which replaced traditional fare such as fish and coconuts long ago". This unhealthy diet means that heart disease, strokes and diabetes at soaring levels among Tongans. However, there have been concerted efforts to get overweight islanders back into shape, Tonga Daily News reported in June. These include advertising campaigns, a rise in mass aerobic sessions, and body building competitions as well as organised netball tournaments for women, the paper says. "However, irregular exercise and an irresistible addiction to unhealthy food continues to be a mental challenge for the overweight Tongan," it concludes.
Next story: South Korean workers head to relaxation parlours
Use #NewsfromElsewhere to stay up-to-date with our reports via Twitter.