Finland: Police ask for tip-offs on cheap pizzas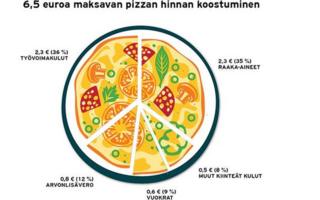 Police in Finland are asking the public to report establishments offering cheap pizzas, as part of efforts to root out tax-dodgers.
The new campaign, which is being publicised on police social media accounts, asks people to inform officers if they spot a pizza on sale for under six euros (£4.50), national broadcaster Yle reports. "Unless a pizza is on temporary sale there is no way a legitimate establishment can offer pizza for less than six euros," Det Insp Minna Immonen of the Uusimaa police department is quoted as saying. Police are trying to crack down on the "grey economy", which costs the country millions of euros in lost tax revenue each year. They also want people to make sure they get a receipt for their pizzas, regardless of value.
Finns commenting on social media have reacted to the campaign with a mixture of bemusement and disbelief. "This pizza-receipt hunting is ridiculous," writes one user on the Economic Crime Investigators' Facebook page. "Shouldn't they concentrate those limited police investigative resources where real problems are?" Others are sceptical that the campaign will have any effect, with many blaming Finland's relatively high tax rates for the problem. "As long as the state 'steals' legitimately with high taxation, then companies will also steal from the government," says one user. Another complains that people are being used as "spies for the criminal investigators", writing: "Isn't it the police's responsibility to investigate this?"
Next story: Saudi female candidates warned not to meet voters
Use #NewsfromElsewhere to stay up-to-date with our reports via Twitter.