Switzerland: Crackdown as noise irks Geneva authorities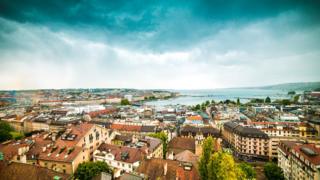 Making a din in Geneva will be more costly in future, after the authorities announced a steep increase in fines for noise disturbances.
Until recently, the canton fined people up to 150 francs ($156; £100) after noise complaints, but under the new system that will be the minimum amount, the 20 minutes news website reports. Someone shouting in the street can expect the lowest fine, but if car horns wake up an entire neighbourhood the penalty could reach 1,000 francs, the canton's Attorney General Olivier Jornot says.
Car owners whose exhaust silencers aren't working properly can now expect a fine of 500 francs, rather than the 50 to 100 francs of old. And there will be limits on how long celebrations can go on after a sporting event, decided on a case-by-case basis, the website reports.
Geneva's police chief, Monica Bonfanti, says officers respond to more than 6,000 noise complaints each year - an average of 17 every day. While some fines have more than doubled, the canton says on average they have increased by 20%, adding that the amounts hadn't been changed since 1996.
While one person commenting on the 20 minutes website says the authorities should be "dealing with real crime", most welcome the move. "I think this is sensible. I was taught to respect my neighbours and people in general," writes one person, adding that the real concern is that the fines are even needed. Another user thinks the idea should spread to other cities: "Bravo! Decent fines and stricter controls in Lausanne would certainly calm some people down."
Next story: Finnish police ask for tip-offs on cheap pizzas
Use #NewsfromElsewhere to stay up-to-date with our reports via Twitter.