Norway: Purple 'jellyfish slime' coats northern fjord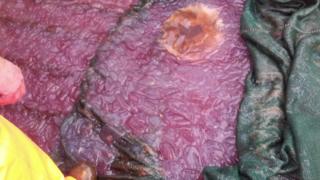 Scientists in Norway say a huge area of reddish-purple slime which has appeared on the country's northern coast could be the result of disintegrated jellyfish.
Fisherman first reported the emergence of the mucus in the Lyngen Fjord in late August, and now describe it as a "plague" which is causing problems for their sonar equipment, and coating their daily catch. The origin of the slime isn't yet certain, but oceanographers at the Institute of Marine Research say cigar comb jellyfish could be to blame, The Local website reports.
"It's probably dead or partially dead jellyfish," Tone Falkenhaug tells the site. "If you have dense blooms of jellyfish, they fall down into the water column and they start to disintegrate." On the institute's website Ms Falkenhaug says that more analysis is needed before they can be sure of the cause.
The mucus now covers a huge area of the fjord. "We are talking about millions of cubic metres," says Roger B. Larsen, who teaches at the Arctic University of Norway in Tromso. "The images we are picking up from the echo sounders and other equipment are totally atypical," he tells the NRK broadcaster, adding that the substance has a consistency similar to margarine. Mr Larsen, a fisheries expert, says he has been taking annual trips to the area and has "never seen anything like this in these fjords".
Next story: Italian company trials email-free working to cut stress
Use #NewsfromElsewhere to stay up-to-date with our reports via Twitter.