Wallis and Futuna: Locals cut off air access to island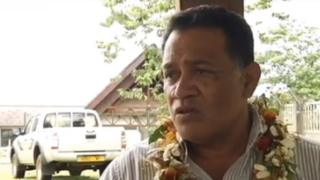 Villagers are blocking access to the airport on the French-run Pacific island of Wallis, and say they will keep it up until the authorities hire two local people.
Tribal chiefs' spokesman Pasilite Hensen says they allowed Hihifo airport to be built on their land on the understanding that it would provide them with much-needed employment, and local people feel they are being sidelined over jobs. "We had agreements, possibly verbal ones, but agreements nonetheless, and they have held for several years," he tells French Overseas TV.
Villagers have blocked the car park with pick-up trucks all week, and dozens of protestors are camping out on the airport lawn. International and domestic flights have all been suspended, with nothing departing from the airport until Friday at the earliest. More than 100 passengers are affected, although Mr Hensen says the villagers will let medical cases through.
Marcel Renouf, the French prefect of Wallis and Futuna islands, accuses the Hihifo villagers of "taking the island and its people hostage in the interests of just a few people". He says that he will not resume talks until the blockade is lifted, and is threatening to take the protestors to court. The Wallis chiefs, in the meantime, have asked the French government in Paris to intervene and appoint a mediator.
Next story: Serbian reality TV shows banished to late night slot
Use #NewsfromElsewhere to stay up-to-date with our reports via Twitter.