New Zealand: Officials declare victory over fruit fly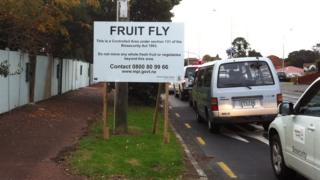 Officials in New Zealand have declared the country's fruit fly eradication programme a success after spending almost NZ$1m (US$668,000; £442,000) per insect killed.
The Ministry for Primary Industries has lifted restrictions that have been in place since February, when a single fruit fly - one of the world's most destructive insect pests - was found on a property in Auckland, the Stuff.co.nz news website reports. Another 13 Queensland fruit flies were detected in an operation that cost NZ$13.6m in total, but no more have been found since March after strict controlled areas were enforced.
The ministry's chief operations officer, Andrew Coleman, tells Radio New Zealand that the operation had to last at least 128 days - the life cycle of the Queensland fruit fly - to ensure that they were all gone. Director general Martyn Dunne says officials will probably never know how the outbreak started, but they think it was down to human activity. "We assume that what's happened is that someone has brought a piece of fruit in. It could have been through the airport, or the port. We have no idea."
While the expenditure may seem steep in terms of cost-per-insect, the alternative scenario for the country's farmers could have been far more expensive. Any outbreak would have put New Zealand's horticulture industry, valued at between NZ$3.6bn and $5bn, at risk. The government enforces strict bio-security regulations to protect both agriculture and the country's unique eco-system from invaders.
Next story: Croatian crowds queue to rescue 'long-lost' savings
Use #NewsfromElsewhere to stay up-to-date with our reports via Twitter.