Austria: Linz scraps gay pedestrian crossing lights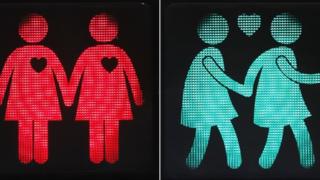 The Austrian city of Linz has scrapped its gay-themed pedestrian crossing lights, which were adopted earlier this year with the aim of promoting tolerance.
The red and green signals, depicting same-sex couples holding hands, were first introduced in Vienna to coincide with the Eurovision Song Contest in May. Their popularity meant Salzburg and Linz later followed suit. But while the signals have become a permanent feature in the capital, they've now been removed from the streets of Linz, the Kurier website reports.
"Traffic lights are for traffic and should not be misused to impart advice on how to live your life," says councillor Markus Hein of the right-wing Freedom Party, who is responsible for traffic issues. Mr Hein, who opposed the initiative from the start, says that gay rights are already advanced, making the lights "completely unnecessary".
The move has been described as "shameful" by Severin Mayr, a local Green Party lawmaker who supported the measure. Mr Mayr says that while "elsewhere signs are put up to promote openness and peaceful coexistence", in Linz the council has put things into reverse.
A few Austrians commenting online support the decision and say it won't cost anything, with one person describing the gay-themed lights as "nonsense". But many more have voiced their annoyance. "This ruins the image of Linz," reads one comment on the Oberoesterreichische Nachrichten news website. Another person points out that the lights were funded by private donations, not council money, and asks: "Will the donors get their money back?"
Next story: Japan ham-giving tradition hit by cancer report
Use #NewsfromElsewhere to stay up-to-date with our reports via Twitter.