Germany: Star Wars-themed service at Berlin church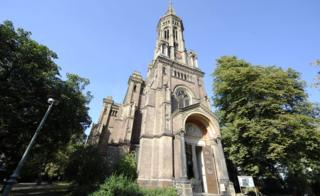 A church in Berlin has announced it will hold a special pre-Christmas service devoted to Star Wars.
Excitement is building in Germany ahead of the release of the franchise's latest installment, The Force Awakens, on Thursday. But the Zion Church, located in the capital's central Mitte district, is taking inspiration for its Sunday morning service from one of the classics - Star Wars Episode VI: Return of the Jedi. Those attending the event will be shown scenes from the 1983 film, and there's also the promise of organ music inspired by the score, the local church district says on its website.
The idea came from two young pastors-in-training, Ulrike Garve and Lucas Ludewig, who see parallels between the George Lucas films and the Bible. "In the key scene of Episode VI, Luke Skywalker is drawn onto the side of the emperor, of evil," says Mr Ludewig, described as a theologian and Star Wars expert by the church. "Luke resists with the words: I will never belong to the dark side." That sentiment, he says, is reminiscent of a passage from Romans: "Do not let evil conquer you, but conquer evil by doing good."
"The more we talked about it, the more we saw parallels to Christian traditions in the films," says Ms Garve. "We want to make these analogies clear to the congregation." And there's a bonus for Star Wars fans who turn up in their finest Chewbacca or Hans Solo gear: anyone donning Star Wars fancy dress for the occasion can enter a raffle for tickets to see The Force Awakens at the cinema.
Next story: Russia's 'road fairy' tackles Omsk potholes
Use #NewsfromElsewhere to stay up-to-date with our reports via Twitter.