Turkey: Istanbul police patrol in Santa outfits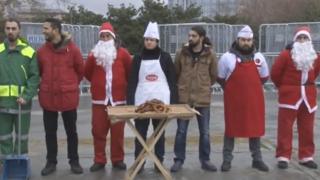 Police officers in Istanbul will be donning Father Christmas outfits for their New Year's Eve patrols in a bid to go undetected among crowds of revellers.
The festive attire is just one of a range of disguises that undercover officers will adopt, with others dressed as shoe shiners and pretzel vendors, the Milliyet newspaper reports. "Those inclined to commit crimes notice policemen but they are unaware of undercover officers. In fact, we get to notice them," Zafer Baybaba, deputy head of the plainclothes branch, told a press conference. It's becoming something of a tradition for the city's police, who have used the outfits to mix with New Year party-goers for the past few years.
New Year festivities in the city's central areas, particularly the popular meeting place of Taksim Square, are notorious for groups of men sexually harassing women, Hurriyet Daily News reports. Police say 5,000 officers will patrol the area on 31 December, with 15,000 across the city as a whole. And while seeing dozens of people dressed as Santa Claus a week after Christmas might seem odd to visitors, in Turkey he is associated more with New Year celebrations.
Next story: 'Glum' Snow Maiden statue given makeover
Use #NewsfromElsewhere to stay up-to-date with our reports via Twitter.