Uzbekistan: Protests stop medieval minaret demolition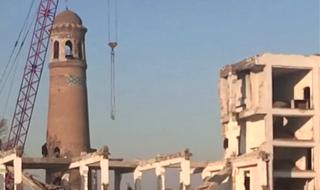 Uzbekistan has abandoned plans to demolish a 700-year-old minaret in the eastern city of Andijan, in an unusual climb-down for the country's authoritarian government.
Local historians and conservation campaigners noticed last month that council mock-ups for a redevelopment of the city centre replaced the minaret with a fountain, and wrote to Prime Minister Shavkat Mirziyoyev to complain, Radio Liberty's Uzbek Service reports. Officials from the government's own Department of Cultural Heritage and the UN culture agency Unesco also raised concerns.
After the story was picked up by independent and social media in Central Asia and Russia, the government sent a special commission to the city. Officials "met the local people who had filed the objection, heard what they had to say, and decided to ban any demolition of the minaret," senior culture ministry official Abdusafiy Rahmonov is quoted as saying. The story has not yet appeared in Uzbekistan's tightly-controlled official media.
The redevelopment had been launched by Prime Minister Mirziyoyev himself, and work was due to start in March. But billboards showing the proposed fountain layout have reportedly now disappeared from outside the Jami mosque complex, of which the minaret is a prominent feature.
Radio Liberty earlier spoke to an official within the city council, who said the minaret had been earmarked for demolition over concerns that it couldn't withstand the powerful earthquakes which can occur in the region - despite having done so for hundreds of years. Local conservationists also pointed out to the visiting commission that the minaret is already fitted with metal anti-earthquake supports to prevent a collapse, the website says.
Next story: Vietnam officials probe mysterious 'space balls'
Use #NewsfromElsewhere to stay up-to-date with our reports via Twitter.