Wallis and Futuna: Mast spat threatens new mobile network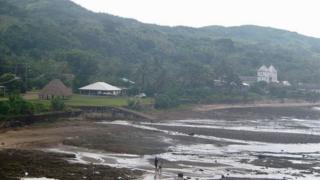 The French Pacific island of Futuna has had mobile phone service for less than a month, but it's already under threat because of a dispute over a key mobile mast.
Homeowner Atalemo Vakamua has threatened to cut the service completely by chopping down the transmitter, which he says was installed on his land without his permission, French Overseas TV reports. "All my family met and we decided to cut down the mast," Mr Vakamua tells the TV, adding that all the other residents of his village support him.
The phone provider, meanwhile, insists its mast, which is about 20m (65ft) from the house, is on public land. A recent meeting between the company, the family and local chiefs failed to resolve the dispute, although the family agreed to delay the chopping down for a few days, Radio New Zealand reports.
Mr Vakamua says he's worried about the effects of the mast's emissions on his family, claiming other transmitters have caused health problems in the larger French Pacific territory of New Caledonia, where he works. "I live with people there who work with these phones," he says. "Even if they are weak, my family will be affected by these magnetic waves every day."
Next story: Norway city bells honour Motorhead's Lemmy
Use #NewsfromElsewhere to stay up-to-date with our reports via Twitter.