Finland: Free shoe grips for elderly residents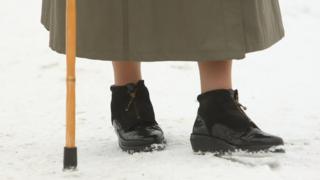 A small town in southern Finland is trying to counter the risk of elderly people slipping on icy streets by giving away hundreds of pairs of shoe grips for free.
The council in Ypaja, about 70 miles (112km) north-west of Helsinki, is offering the anti-slip shoe covers to everyone over the age of 70, public broadcaster Yle reports. Mayor Vesa Ketola says the scheme, which is costing about 7,000 euros (£5,300), could help keep elderly people out of hospital and avoid the 20,000-euro cost of treating a fractured hip. "Even one fall fewer and this project has paid for itself," he tells Yle. "This is a good idea and a small cost for the municipality."
Of the town's 2,500 residents, more than 300 will qualify for the giveaway. "There are three different sizes you can try at the Ypaja pharmacy," an advert for the scheme reads. "You will get your own after presenting your national insurance card." Ypaja council is following in the footsteps of several other towns; in Raisio, on the western coast, pensioners are offered free shoe studding.
There are about 7,500 hip fractures in Finland each year, and by 2020 that's expected to rise to 10,000 as the population ages, according to figures from the National Institute for Health and Welfare.
Next story: Poo pots offered to NZ mountain climbers
Use #NewsfromElsewhere to stay up-to-date with our reports via Twitter.