Uzbeks protest against 'barbaric' tree felling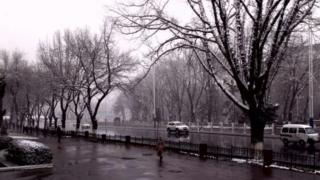 Thousands of people in Uzbekistan have signed a petition calling on the government to stop felling plane trees in the capital, Tashkent.
Dozens of trees have been chopped down along city's presidential route, which links President Islam Karimov's residence to his office and the city airport. Local people say their expansive canopies provide essential shade in the city's searing summer heat, and a petition calling on the authorities to spare the remaining trees has attracted more than 3,000 signatures in just a few days. Tashkent is "becoming like an asphalt-concrete jungle", the petition says, describing the current felling campaign as "barbaric".
A city environmental official tells the Uz24 news website that the trees were diseased and posed a safety risk to passers-by. But other theories abound on social media, where most users suspect presidential security concerns are to blame for the felling. "Just wait, they will tell you later that plane trees are the number one threat, because terrorists can hide behind them!" one person writes on Facebook. Another user says one might imagine the trees would actually block a would-be sniper's view. Others are convinced that the timber is actually being sold off to make cheap local furniture.
Residents who live along the presidential route have previously been told they can't have tinted windows, and must close their balcony doors on the twice-daily drive past by the presidential motorcade, Radio Liberty says.
Next story: Italian town welcomes first baby for 28 years
Use #NewsfromElsewhere to stay up-to-date with our reports via Twitter.