Endangered New Zealand parrots to have genomes sequenced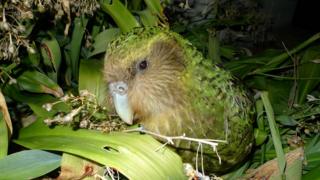 A group of critically endangered flightless parrots will have their genomes sequenced in New Zealand, in the hope it will improve the birds' genetic diversity.
There are only 125 kakapo left and every one of them will have their genetic make-up studied as part of the project. It's the first time that genome sequencing of a whole population of one animal has taken place, Radio New Zealand International reports. Scientists say analysing the data will help them to save the kakapo from extinction by providing information on fertility and susceptibility to disease. It will also show which birds are closely related, so that inbreeding can be prevented.
One kakapo genome has already been sequenced at a US university, and now the other 124 will be analysed by a team at the University of Otago in southern New Zealand. "The questions we can answer will be limited only by our imagination," Associate Prof Bruce Robertson, a molecular ecologist, tells the site. "As with the human genome project, we'll be mining this for many years to come, and new and novel things will come out of it." Researchers are hoping to raise US$45,000 (£31,000) towards the cost of the study through crowdfunding, and are currently more than halfway to their goal.
The somewhat chunky kakapo is the world's heaviest parrot, with males tipping the scales at more than 2kg (4.4lb), and they only breed every two to four years. A recovery programme launched in 1990 - when numbers dipped to fewer than 50 - helped boost the population to its current level. But the birds remain rare enough that adults are each given names - the most famous being Sirocco, a hand-raised kakapo with his own Facebook page.
Next story: Lost tourist finds fame after Iceland GPS mishap
Use #NewsfromElsewhere to stay up-to-date with our reports via Twitter.