Health and safety catches up with German public fridges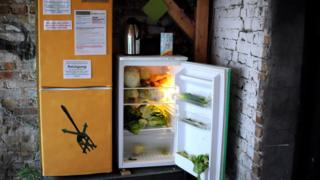 Advocates of public food-sharing fridges are up in arms in Berlin at new health and safety rules that look likely to end the practice.
The city's food safety authorities say the fridges, in which people can leave leftover food for the needy, pose a health risk and have imposed tighter hygiene guidelines in which the fridges are classed as food businesses, regional broadcaster RBB reports. Apparently, food inspectors had reported "unhygienic conditions" in some of the fridges, including non-packaged bread and torn packaging. Organisers now fear Berlin's 25 public fridges will have to close, with one in the trendy Prenzlauer Berg district already shutting shop, according to RBB.
But food-sharing activists are fighting back, launching an online petition that has attracted nearly 15,000 signatures. The organisers insist the fridges - "in contrast to the food scandals of commercial enterprises" - have never posed a health risk, despite having rescued thousands of tonnes of otherwise unwanted food from being thrown away.
The initiative has attracted widespread support on social media, with one comment on the petition's Facebook page describing the rules as an example of "the typical German regulation mania". "God, if only the authorities knew how the fridge in our flatshare looks!" another writes, prompting another to reply: "Shhh. Keep quiet - you'll give them ideas and they start inspecting it."
Next story: Anger in Israel as company prices cleaning staff by ethnicity
Use #NewsfromElsewhere to stay up-to-date with our reports via Twitter.