Kimonos made accessible for wheelchair users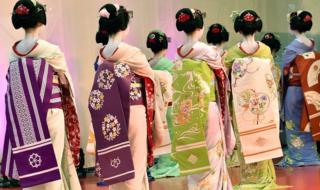 Japanese designers have developed new versions of the traditional kimono which can be more easily worn by wheelchair users, it's reported.
It can often take half an hour to put on the elaborate outfits, during which time the wearer has to remain standing, the Kyodo news agency reports. But some companies now offer adapted designs which feature detachable pieces, meaning they can be put on while sitting down. "We don't want people in wheelchairs to give up wearing kimono on a special day," says Akiko Nakajima, president of the Hanayome Kobo company, which offers kimonos that unzip in the middle.
Nowadays kimono robes are usually worn only for special occasions such as weddings or coming-of-age ceremonies for young adults, and the women's versions tend to be far more complicated to put on than those worn by men. In 2015, another firm won a national design award for creating a kimono which is secured at the back with a Velcro fastening.
Accessibility issues for disabled people have been in the news in Japan in recent months as Tokyo prepares to host the 2020 Olympics and Paralympic Games. New mobile apps will be released showing people the easiest route to get between venues in a wheelchair, and the transport ministry is planning to make public transport more accessible with new lifts onto buses and in train stations.
Next story: Indonesia wants gay-themed emojis removed
Use #NewsfromElsewhere to stay up-to-date with our reports via Twitter.