Auschwitz museum app corrects 'memory errors'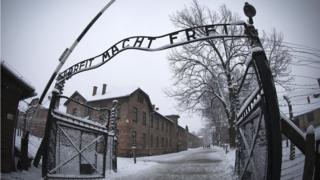 The Auschwitz Museum has released a computer program which corrects references to "Polish concentration camps" or "Polish death camps" in text.
The free app, called Remember, detects any use of the phrases and underlines them in red like a spell-checker, then suggests alternatives. An example on the museum's website shows the app offering a variety of options, including "German Nazi concentration and extermination camp" or "German camp in occupied Poland". The project's website describes it as a tool to "correct collective memory errors" which can cause confusion for young people abroad.
"The Auschwitz camp was built by the German state on the territory of occupied Poland forcibly incorporated into the Third Reich," museum director Dr Piotr Cywinski says, adding that the distinction is clear for all those who visit the site or read the museum's material. "However, every once in a while in the media, this false statement appears," he says, describing it as "very painful to bear for Poles".
References to "Polish death camps" are most often made by journalists, according to the app's developers. "Although we are aware of cases of intentional manipulation, and then a refusal to rectify it, these errors often stem from haste and lack of knowledge," says Agnieszka Heidrich from the FCB Warsaw company.
The app's release comes only days after the Polish government announced plans for a new law making it a crime to imply that Poland bears any responsibility for atrocities committed on its soil by Nazi Germany.
Next story: Chinese city shuts down messy 'wall of kindness'
Use #NewsfromElsewhere to stay up-to-date with our reports via Twitter.