'Unauthorised trousers' kill Canadian zoo's otter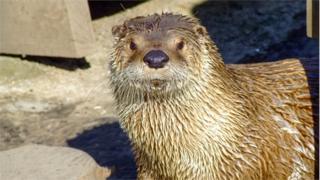 A Canadian zoo is under scrutiny following the death of an otter which had been given a pair of trousers to play with in its enclosure.
Logan, a 12-year-old American river otter, drowned at Calgary Zoo after being given the article of clothing as an "unauthorised enrichment item", the Calgary Sun newspaper reports.
The zoo's general curator, Colleen Baird, says Logan got trapped in one of the trouser legs, and two employees have subsequently been disciplined following an investigation into the incident.
"It was human error and we take animal deaths very seriously," she tells the paper, but refuses to be drawn on who was responsible. "It's irrelevant how exactly the pants got in there, it's more that the pants got in there in the first place."
"Enrichment items" are common in zoos, but they should be things which occur naturally in the animal's environment, Ms Baird says, and trousers don't fit the bill.
While the zoo says its animal care protocols "are among the most stringent in the industry", it has faced criticism over the otter's death.
Julie Woodyer, from animal welfare group Zoocheck, told Canadian broadcaster CBC: "It smacks of the kinds of things you might see at a roadside zoo, not in a professional operation."
It's not the first time that Calgary Zoo has experienced unfortunate incidents involving its animals. Among those highlighted by CBC were the 2013 death of a female penguin which swallowed a foot-long stick; and a spider monkey which died of frostbite after being left outside in cold weather.
In 2009, a gorilla was photographed wielding a knife which a keeper had inadvertently left in its enclosure, an incident the zoo described as "overblown" because gorillas don't understand the concept of using tools as weapons.
Next story: South Koreans warned over dining at North Korean-owned restaurants
Use #NewsfromElsewhere to stay up-to-date with our reports via Twitter.