North Korea unveils hundreds of new slogans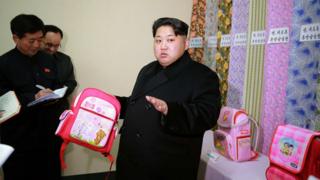 North Korea has unveiled some 375 new slogans in the run-up to the forthcoming congress of the ruling Workers' Party of Korea in May.
Published in state-run newspaper Rodong Sinmun, the exclamation mark-heavy slogans reflect - in the words of the ruling party - "epoch-making changes" which will bring "final victory under the leadership of Marshal Kim Jong-un". While many urge North Korean citizens to work hard and "make hurrah" for the glory of the party, others sound particularly ominous, both for Pyongyang's foreign rivals, and for domestic party officials who should be "true persons working devotedly to implement the Party's policies to the last even though they may die!"
The party congress will be the first such meeting since 1980, and citizens are being urged to break production targets and complete key construction projects before it starts.
Among the slogans revealed is a call to renovate the 500m (1,640 feet) long former presidential palace that houses the bodies of dynastic leaders Kim Jong-il and Kim Il-sung:
"Let us spruce up more wonderfully the Kumsusan Palace of the Sun as befitting the holy land of the eternal sun and devotedly defend it!"
"Become the sparks setting fire to the hearts of the masses and detonators giving full play to their mental power!"
"Make the whole country seethe with a high-pitched campaign for producing greenhouse vegetables!"
"Let's give a decisive solution to the problem of consumer goods!"
"Let us thoroughly implement our Party's policy of putting all the people under arms and turning the whole country into a fortress!"
There's even a call for citizens to pay more attention to the country's sole state-sanctioned pop group: "Learn from the revolutionary and militant creative style of the Moranbong Band!"
These slogans will almost certainly replace a list of 310 published by the party in February last year. They included eyebrow-raising calls to plant more mushrooms, and to create a "socialist fairyland" in North Korea.
Next story: Tourists asked to swot up on Iceland before they arrive
Use #NewsfromElsewhere to stay up-to-date with our reports via Twitter.