Indigenous people in Brazil help create computer game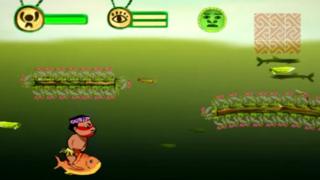 Indigenous people living in the Amazon rainforest of Brazil have helped to create a new computer game that allows players to explore their history and culture.
The Kaxinawa people have collaborated with a team of anthropologists and programmers to make Huni Kuin: The Way of the Snake, the Rio Times newspaper reports. Huni Kuin translates as "real people", the name by which the Kaxinawa refer to themselves. The project's creator, Guilherme Meneses of Sao Paulo University, told the Agencia Brasil news agency that 45 members of the Kaxinawa community from Brazil's western Acre state took a full part in the game's creation. "They designed the prototypes, recorded music and sound effects. Shamans narrated the stories," he said.
Huni Kuin is a horizontally scrolling platform game in which the player chooses to take part as a male or female character. According to the game's narrative, the pair are twins with special powers granted to them by the anaconda called Yube. Over five levels, players have to overcome a series of challenges relating to animals, plants, and spirits of the forest to become a healer and a master of arts. At one stage, gamers face an epic battle with a giant snake.
Amid the gameplay, there's a serious message behind Huni Kuin, Mr Meneses points out. "Gamers would gain a new perspective of the village, the indigenous world, and the myths," he says. As a result, the game will help to debunk prejudices against Brazil's indigenous people, "as there remains a lack of public information about them".
Next story: Moscow metro buskers to face celebrity jury
Use #NewsfromElsewhere to stay up-to-date with our reports via Twitter.