Russian company backs Sharapova in lollipop form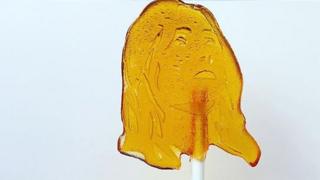 A Russian confectionery company is backing suspended tennis player Maria Sharapova by releasing a lollipop bearing her likeness.
St Petersburg-based confectioner Rubiscookies unveiled the sweets in a show of support for the Russian former world number one, who is at the centre of a doping scandal after testing positive for the banned substance meldonium, and faces a ban of up to four years, Komsomolskaya Pravda tabloid reports.
"We have always been inspired by Maria Sharapova as an athlete and a public figure, and do not doubt for a second her talent and capabilities," a Rubiscookies spokesperson said in a statement. "So we are not going to wait for the situation to be resolved. We want to support Maria in the only way we know, by releasing a collector's edition lollipop with her face. It is made of sugar, with no meldonium at all."
Indeed, the lollipop comes with a ticket bearing a photo of Sharapova and the slogan: "100% Sharapova; no meldonium".
Each lollipop costs 50 roubles ($0.70; £0.50) with half of the revenues going to charitable projects supported by the tennis star. On April Fool's day 2015, the company released a lollipop featuring politician Vitaliy Milonov, known for spearheading laws against "LGBT propaganda" in Russia.
It's not the first time Sharapova has been involved in the world of confectionary. In 2013, she released her own line of "boutique" sweets called Sugarpova, which was criticised at the time by anti-junk food advocates as "irresponsible marketing".
Next story: Thailand's overweight monks put on a diet
Use #NewsfromElsewhere to stay up-to-date with our reports via Twitter.