Vanuatu shows off 'best toilet in the South Pacific'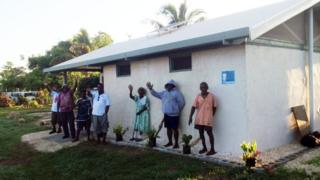 A village in the island nation of Vanuatu has opened what it calls "the best public toilet in the South Pacific" in the hope of attracting tourists to help fund local projects.
Located on the opposite side of the country's main island to the capital Port Vila, the village of Paunangisu hopes that the newly-opened block will be a convenient stopping point for visitors taking round-the-island road trips, Radio New Zealand reports. Frustrated that tourist buses don't stop for their market stalls, backers - which include a church in Melbourne - instead turned to an idea that would make drivers hit the brakes.
"There's nothing like a sign on the road saying 'best public toilet in the South Pacific' to trigger something in the brain," supporter Robert Latimer told the radio, explaining that once the visitors have stopped, it's easier to sell other services and offer tours of the area.
Spending a penny in Paunangisu doesn't come cheap, however. Visitors are charged 200 vatu ($1.83; £1.30) to use the toilet, but get a 75% discount if they are part of a large group. Even locals have to pay 50 vatu, but as Mr Latimer told Radio New Zealand: "If you've used the public toilets in Port Vila you would gladly pay 50 vatu to use this one in the village."
Locals are so proud of their facility that it now has its own website, which explains that the lavatory is not just about tapping into the tourist dollar. Cash raised from visitors will pay for much-needed village projects such as water storage, education and job training. The toilet's backers have even adopted a slogan: "It's the place to go when you need to go".
Next story: China plans restrictions on 'foreign' place names
Use #NewsfromElsewhere to stay up-to-date with our reports via Twitter.