Northern Mariana Islands rush to restrict gun access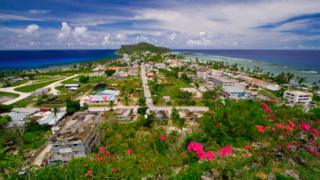 Lawmakers in the US commonwealth of the Northern Mariana Islands are moving to enact "sweeping" gun control legislation, days after a court struck down its ban on handgun possession.
For decades the Pacific islands' laws have prevented handgun ownership and imposed strict regulations on other firearms. But on Monday, a US district court with jurisdiction over the territory ruled that the prohibition violates the US constitution's second amendment, which guarantees the right to bear arms. While the commonwealth is self-governing, the court said certain constitutional rights apply there "as if it were a state", the Marianas Variety newspaper reports.
Officials weren't caught unawares, though. Anticipating the ruling, they've already prepared a 57-page bill proposing a slew of new restrictions on firearms, the Saipan Tribune reports. A spokesman for Governor Ralph Torres said the administration was "disappointed" with the court's decision, but that the new regulations would impose safety measures including background checks, waiting periods and the requirements that anyone wanting to buy a gun attend a safety course.
The bill says the "vast majority" of islands' inhabitants "strongly oppose the legalisation of handguns, because they rightly fear that the large-scale introduction of handguns will undermine our peaceful communities". Among the proposals are the imposition of gun-free zones, and a ban on owning a number of specific weapons including machine guns and sawn-off shotguns. The bill also stipulates that any guns which were illegally held within the territory before the US court's ruling will still be seized.
Next story: South Korea plans lifelong parenting education
Use #NewsfromElsewhere to stay up-to-date with our reports via Twitter.