German footballers 'black up' in protest at racist attack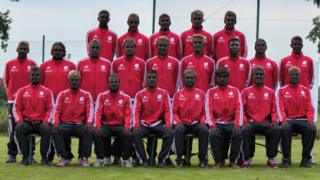 A German football club has responded to what it says was a racist attack on two of its players by digitally altering its team photo to make the players appear black.
Deinster SV, a lower-league club from the Lower Saxony region, posted the image on its Facebook page alongside a message detailing what happened to the men, both Sudanese refugees. "Violence against refugees is pathetic," the post reads. "Emad and Amar, you are one of us just like everyone else and we're happy you are with us."
Their coach, Soenke Kreibich, says they were subjected to verbal and physical abuse during an Easter fete in the town, with Emad later being pushed to the ground and beaten. He says the club decided to make the image as a show of solidarity with the two players.
"We wanted to make a stand, amongst ourselves but also to the public," he tells the Jetzt website. "It should make it clear that Emad and Amar are an inherent part of our team, and not a minority on whom you can use violence to let off your personal frustration."
While plenty of social media users have applauded the club's move, it has made many others uncomfortable. "Protest against racism. Hm. Not really sure about that," writes one person on Twitter. "Somehow worrying, as I see it... Isn't this also a form of racism?" asks one Facebook user.
But there's lots of praise among the hundreds of other comments on the club's Facebook post - which has received more than 10,000 likes.
"People who lack self-confidence always look for apparently weaker people to make themselves feel better. That's how many a person becomes a miserable racist," writes one man, "Thank you for this courageous and creative move!"
Another user is more succinct, declaring: "You guys are fantastic!!! Simply fantastic!!!"
Next story: Iceland takes action on dangerous tourist attractions
Use #NewsfromElsewhere to stay up-to-date with our reports via Twitter.