China restaurant sacks robot waiters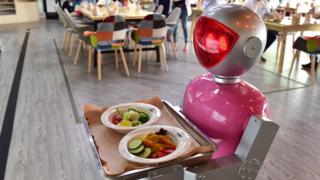 Three restaurants in the southern Chinese city of Guangzhou have found that "employing" robot waiting staff was more trouble than it was worth.
Of the three establishments, two have closed down, while the third has sent all but one of their robots back and reverted to human servers, the Workers' Daily newspaper reports. While the robot waiters were an excellent gimmick to get customers through the door, they were not quite so good at their programmed task of serving food and drink to customers, according to staff. "The mobility of the catering staff was great, we initially recruited six for service, but after a year we only retained one," says a hotpot restaurant supervisor named Ms Liang.
Another human employee at one of the restaurants says the robots simply didn't have the same capabilities as their flesh-and-blood colleagues. "Their services were limited. They couldn't pour water for customers, nor could they take orders," the staff member tells Workers' Daily.
The current state of robotics and artificial intelligence means that the technology is not quite advanced enough for robot waiters to work effectively, one expert notes. Quoted by the Shanghaiist website, Zhang Yun, a specialist at Guangdong University of Technology, says that while robots are good at repetitive tasks in manufacturing, they're still unable to perform autonomously in jobs such as waiting which require interaction with unpredictable humans.
Next story: Ants deployed to protect fruit trees
Use #NewsfromElsewhere to stay up-to-date with our reports via Twitter.