Russia's 'patriotic' Putin cafe divides opinion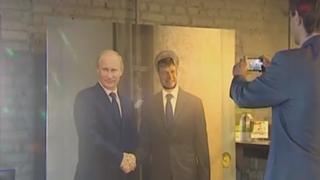 The opening of a cafe devoted to Russian President Vladimir Putin has raised eyebrows over its use of Western leaders' images in the toilets.
The appropriately named President cafe, in the Siberian city of Krasnoyarsk, has adorned its interior with photos of Mr Putin across the years, and plays the Russian national anthem every day at midnight, state-owned Rossiya 24 TV reports.
But the establishment's toilets are a Putin-free zone. Labelled "Nato bloc", they're plastered with images of "non-friendly Western leaders" including David Cameron, Angela Merkel and Ukrainian President Petro Poroshenko, the report says. Barack Obama gets a look in too - on the toilet paper.
The owners have provided a black marker pen for visitors to add their own flourishes to the leaders' photos, and there's a less-than-subtle dig at the US underfoot, with American flag doormats. The menu doesn't discriminate, though, with both French fries and Coca Cola on offer.
One customer tells the channel that he liked the toilets' decor and would "revisit it with pleasure", but the report notes that Krasnoyarsk residents aren't all so enthusiastic, with some concerned it could violate the law on inciting hatred.
Lawyer Igor Simonov seems to agree, telling the channel that individuals' images can't be used without permission. He says even if the use is satirical, it would violate "one's personal rights, honour, dignity and business reputation".
There's been a mixed response from Russians commenting online. On the Komsomolskaya Pravda website one person congratulates the owners for their idea and another says: "Everything is super! We wish you prosperity!" But a Moscow-based user says: "Such 'patriotisim' makes me sick."
Several others agree, with one writing: "This is so crude! We have to put up a real fight against our opponents - in the economy, in defence, in high living standards for our people, not fall to the level of primitive insults."
Next story: China restaurant sacks robot waiters
Use #NewsfromElsewhere to stay up-to-date with our reports via Twitter.