Reykjavik's skeletons cause controversy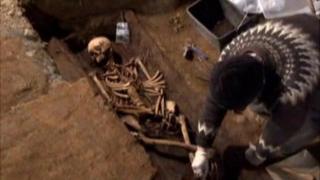 Plans for a new hotel in the Icelandic capital Reykjavik are causing controversy, as part of it will be built over the city's oldest cemetery.
Skeletons are already being removed from the site of the Vikurkirkjugardur cemetery, in which Reykjavik's dead were buried from around the year 1000 to 1838, Iceland Monitor news website reports. However, there's disquiet from some sections of the city council and a former director of the National Museum of Iceland, who think the reburial of the capital's former residents harms national heritage.
"The city should be spared from a hotel in the cemetery," former museum director Thor Magnusson wrote in an editorial piece in Iceland Monitor's parent title, Morgunbladid. "It could be turned into a beautiful and peaceful place in memory of past generations, instead of a drop-off point where tourists drag their luggage."
However, people working on the project around the old telecoms building where the cemetery lies say the controversy is a "misunderstanding", Morgunbladid reports. Archaeologist Vala Gardarsdottir said the cemetery was already known about when the building permit was issued, and that the site had already been disturbed by 20th-Century building projects, which this project largely replaces. This time, Vala tells Visir newspaper, the builders "are much better aware of their responsibility" toward historic sites.
Despite any controversy, Vala says the dig has already revealed clues about Iceland's past. She tells Iceland Review that "it is interesting to see the differing burial rituals within Christianity", and that the uncovered bones will give researchers a window into over 800 years of Reykjavik's history.
Next story: Uzbek bank robbers labour for tiny haul
Use #NewsfromElsewhere to stay up-to-date with our reports via Twitter.