Poland to stage Pope John Paul II musical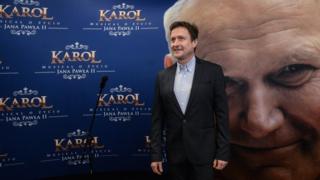 A new musical about the life of Pope John Paul II will open in Poland early next year, the first to be produced in the late pontiff's home country.
Hundreds of tickets have already been sold for the show, entitled Karol, which will make its premiere in Krakow in February, Radio Poland reports. Born Karol Wojtyla, he was archbishop of the city for more than a decade prior to being elected Pope in 1978.
The production will use pop-rock songs and contemporary dance to tell his life story, against the backdrop of World War II, through decades of communism and its eventual collapse. "There is no other figure in the history of our country who embodies the most important events of the 20th Century that happened in Poland and Europe," artistic director Michal Kaczmarczyk tells Rzeczpospolita Polska.
Taking on the lead role is Jacek Kawalec, who says his priority is to portray "not only a priest, but above all a man who played sports, had fun with his friends, and loved the theatre".
Producers say they're keen to highlight sides of the Pope's character that Poles may not know about. The musical's website lists a number of examples, including an exchange with reporters who asked about his health, to which he responded: "I do not know, I haven't read the morning newspapers."
Next story: Mixed reaction to S Korea's last-minute long weekend
Use #NewsfromElsewhere to stay up-to-date with our reports via Twitter.