Russian 'eternal flame' replaced by cardboard painting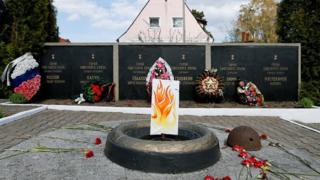 A Russian village has replaced the eternal flame on its war memorial with a painted piece of cardboard.
The monument, in the village of Pereslavskoye near the western city of Kaliningrad, honours Soviet soldiers who died in World War Two. Despite being referred to as an "eternal flame", the monument is actually only lit on big occasions using a gas canister, the Novy Kaliningrad website reports.
State-run Rossiya TV says the cardboard painting looks like "a bad joke or a silent rebuke". Yevgeny Maslov, the official who runs the regional agency for cultural heritage, told the channel that it was the local authorities' idea.
"Tastes differ," he said, adding that the painting will be removed in time for Victory Day on 9 May, which celebrates the Soviet victory against Nazi Germany.
Memories of World War Two are very much alive in Russia, and eternal flame monuments play an important part in honouring soldiers killed in battle. There are some 4,000 such monuments across Russia, but only one-fifth of them are lit all the time, Rossiya TV reports.
Worried by the situation, President Vladimir Putin ordered the government to ensure uninterrupted gas supplies to eternal flames back in 2014, but progress appears to be limited.
Even though Russia has the world's largest reserves of natural gas, a third of the country's households are not connected to gas pipelines.
Next story: Poland to stage Pope John Paul II musical
Use #NewsfromElsewhere to stay up-to-date with our reports via Twitter.