German salon removes Hitler waxing advert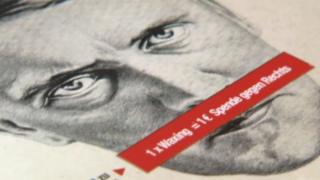 A German salon has removed adverts featuring Adolf Hitler after prosecutors warned that it broke the law, despite the owner intending it to be an anti-extremism initiative.
The poster advertised hair removal at a salon in Cham, in the southern region of Bavaria, using Hitler's face alongside the slogan "Waxing against the Right", the BR public broadcaster reports. Little cards inside the salon used the same image with a strip across Hitler's top lip that could be ripped off, revealing the message: "1 x waxing = one-euro donation against the Right".
Owner Ursula Gresser tells BR: "The main thought was simply to nail my colours to the mast, at a time when refugee homes are being set on fire. If they [the far-right] can do that, why can't I hang a picture of Hitler on my door?" She adds that the act of "ripping off Hitler's moustache" struck her as a "perfect fit" for hair stylists.
But prosecutors thought otherwise and launched an investigation, telling her that using Nazi symbols is against the law in Germany, regardless of the intention.
"The deciding factor about this offence: the perpetrator's political beliefs are completely irrelevant," chief prosecutor Theo Ziegler tells Sueddeutsche Zeitung. "After the owner of the salon saw reason and removed the picture, we stopped the investigation because of the minor nature of the offence," he says.
The poster may be gone but Ms Gresser thinks the advert still had the desired effect, telling BR: "I think we've been quite successful in provoking a debate, to make people talk about it with their friends."
Next story: Tunisian mobile gamers win a cow
Use #NewsfromElsewhere to stay up-to-date with our reports via Twitter.