Sanctions inspire Kalashnikov move into fashion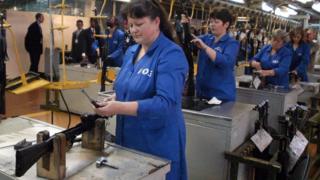 Russia's largest producer of small arms is branching out into fashion as a result of Western sanctions, it's reported.
The Kalashnikov Concern - maker of the widespread AK-47 assault rifle - will launch a "military style" casual clothing and accessories range as part of a diversification drive after it lost access to major markets, the pro-Kremlin daily Izvestia reports. It's planning to open 60 stores across Russia by the end of the year.
Kalashnikov's marketing director, Vladimir Dmitriyev, says that before sanctions were imposed, up to 70% of its hunting and sporting weapons were sold in Europe and the US. Now, he says, they're focusing more on what domestic consumers want.
Marketing consultant Nikolai Grigoryev thinks the fashion line could work by tapping into the "rapid growth of patriotism in Russia related to the theme of war". But he tells pro-Kremlin Life TV that it would still only constitute a small fraction of the company's total turnover.
Most web users commenting on the news are rather sceptical though, with one writing: "Let's shut down production of weapons as it's unprofitable to maintain highly qualified specialists, and switch to making lace underwear under a well-known brand!" Another user jokingly asks "what calibre" the clothes will be and "will they be fitted with an under-barrel grenade-launcher?"
The US and European Union imposed sanctions against Russia in 2014 in response to Moscow's annexation of Crimea, and has extended them repeatedly over Russian involvement in the ongoing conflict in eastern Ukraine.
Next story: China bans 'erotic' banana-eating live streams
Use #NewsfromElsewhere to stay up-to-date with our reports via Twitter.